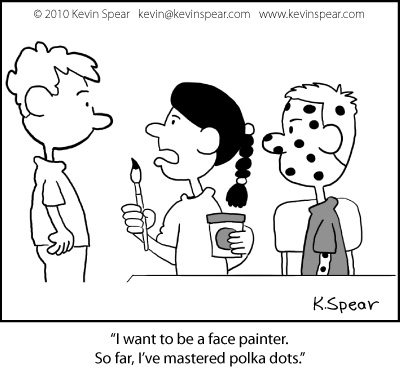 Now to all the pro face painters out there reading this and burning up with rage, calm down. We know there isn't a shortcut to being great at face painting. It takes a lot of practice to be a great face painter but it can end up being a difficult and lengthy experience. Many new face painters will turn down jobs because they feel too inexperienced to take it on. Our super simple tips will mean you can take those jobs, earn a little cash, gain invaluable experience and help you turn your shaky designs into works of art.
4: SPLIT-CAKES
My favorite thing about split-cakes is how professional they look from the first stroke to the last. I mean, I know you can't fake good brush strokes, but the beauty of split-cakes is the dimension they create. Split-cakes make everything look more realistic and will always look impressive, no matter what!

This design can be created in about 2 minutes a  using a 1" Flat Brush and Tag Body Art 1Stroke Iris Split-cake
Split-cakes are also time savers. Imagine trying to create a rainbow using a 1/8" Flat Brush and 7 different colors opposed to using a 1" Flat Brush and a Rainbow Split-cake. It can take up to 5 minutes to make a wobbly looking rainbow using separate colors but no more than 15 seconds to create an evenly flowing one using a split-cake. And this means you can spend more time on your details!
3: METALLIC/PEARL & NEON COLORS
Metallic and Neon colors are the most valuable paints you can buy because they will always make your designs look better. They have an intensity and vibrancy that can't be matched by regular paints. Metallics/Pearls are shimmery, which means they reflect light in a trillion different directions which helps to add dimension. Neon colors are bright and bold. They knock the socks off of any design.
And not only do they look better, kids love them! Any designs that pop or stand out more than others are essential when it comes to kids.
2: GLITTER EVERYWHERE!
I know it might seem childish, but I love glitter! Glitter is the best last minute addition to any face paint design because it adds a 'wow' factor. It really intensifies the sparkle! Another thing I like about glitter is that it can help cover up little mistakes and smudges you make a long the way.
Glitter tattoos are also a great alternative to face painting as they are waterproof, and very vibrant! They're so easy to do, I've even seen children make them!
1: STENCILS
I love love LOVE stencils! They make everything easy. With a carefully placed stencil and a couple dabs with a sponge, professional looking designs take seconds to create. Plus stencils are reusable, super flexible and easy to clean which makes them an essential item to any face painting kit.
One of the newest additions to the Face Painting world of stencils are Show Offs Profile Stencils. The great thing about these stencils is that they also come with a full color display card which will make choosing much easier for your customers.
You can also get stencils for animal prints and snake skins, snow flakes, stars, leaves, dripping blood, hearts etc. They're very versatile.
Follow these tips and there's no reason at all for a new face painter to turn down any gig!